South Tampa Home Value Trends
Posted by Barbara Rasponi on Tuesday, August 15, 2017 at 3:38 PM
By Barbara Rasponi / August 15, 2017
Comment
One of the most common questions that I get is "how is the market doing" which can be broken down into "has it recovered" and "will it happen again".
To begin to answer these questions, let's take a look at what has gone on in the South Tampa real estate market in the last 13 years, since 2004. The current MLS data goes back to 2004, so that is the stopping point for most of my data.
South Tampa Market Analysis
For this analysis, I looked at single family homes in SouthTampa, defining the area as south of Kennedy, north of Gandy and east toinclude Davis Island and Harbor Island. I looked at all single-family homes, regardless of size, price, yearbuild, features or selling conditions.
Coverage Area forMarket Stats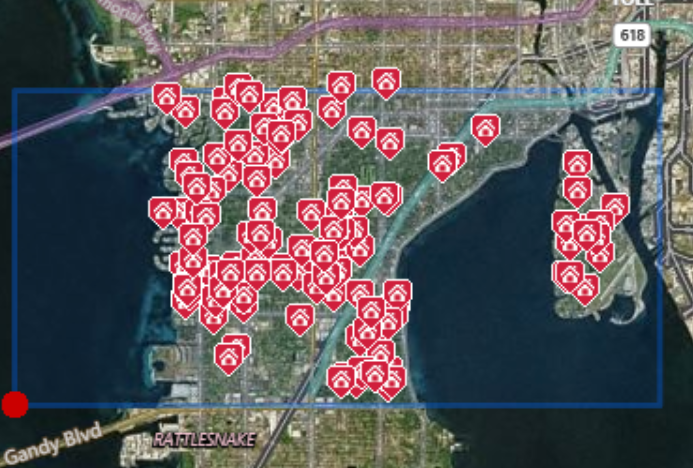 Notable Trends
The lowest median sale price was in February 2011. The end of 2011 is generally considered thelowest point in the real estate bubble, with pricing starting to climb in early2012 and not stopping. June 2017 is thehighest median sale price recorded in the 13 years of history, second to Julyof 2007. You will notice somemonth-to-month fluctuation in the median sale price that can be explained more byactivity on the higher or lower end of the market and not necessarily a pricingtrend. I included the average and mediansquare feet, which is helpful for comparison of where the market activity ishappening. Overall, home sizes haven'tshifted a whole lot. There is a slightupward trend in size due to smaller homes being torn down and larger ones builtin their place, but that is a minimal impact of a handful of houses per year. When you see the square feet being less ormore than the month before, it is more likely that there was just more activityin the higher or lower ends of the market.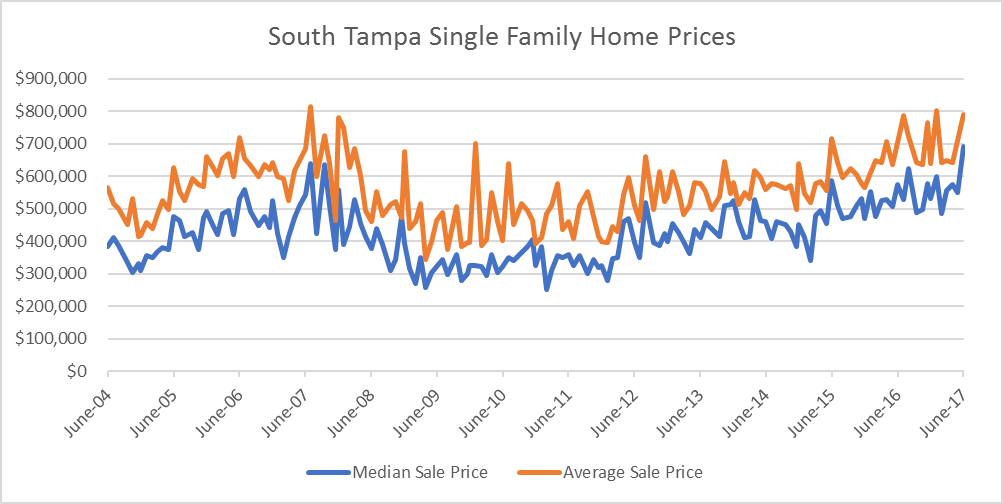 Number of Sales vs Time on Market
We are pacing for some of the highest number of sales, with the lowest time on market in the last 14 years. This graph illustrates the bubble that we experienced in the real estate market well, with sales plummeting in late 2005 and time on market drastically increasing after that. You can see from 2006 – 2009 transactions were low and time on market was high, this is when foreclosures started skyrocketing and prices dropped at a fast rate. 2010 and 2011 was turbulent with these two-metrics flipping back and forth, and then you can see they normalize starting in earl 2012 with the market recovering.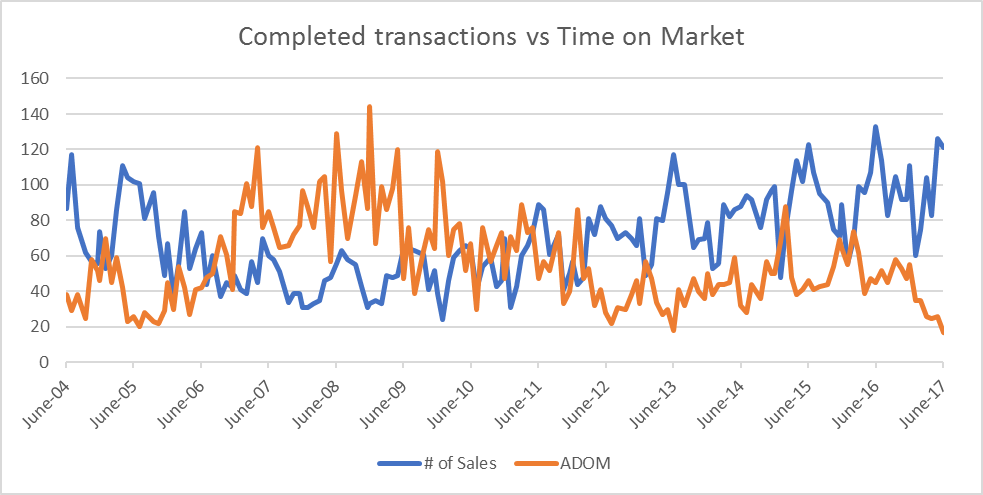 Are we Back in a Bubble?
While no one can predict the future, and most didn't predict the last bubble, I do not believe the trends are pointing to a repeat of 2007 - 2012. The last real estate market crash was bolstered by the sub-prime mortgage crisis. People were in homes that they simply couldn't afford. Selling or foreclosure was the only way to go. When prices started to go down, selling wasn't an option for many people. For a long time foreclosures made up a lot of the market which kept prices in a downward spiral.
To illustrate the point, here is a graph of distressed property sales trends in zip code 33609 for the last 10 years. You can see we are close to pre-bubble distressed sales.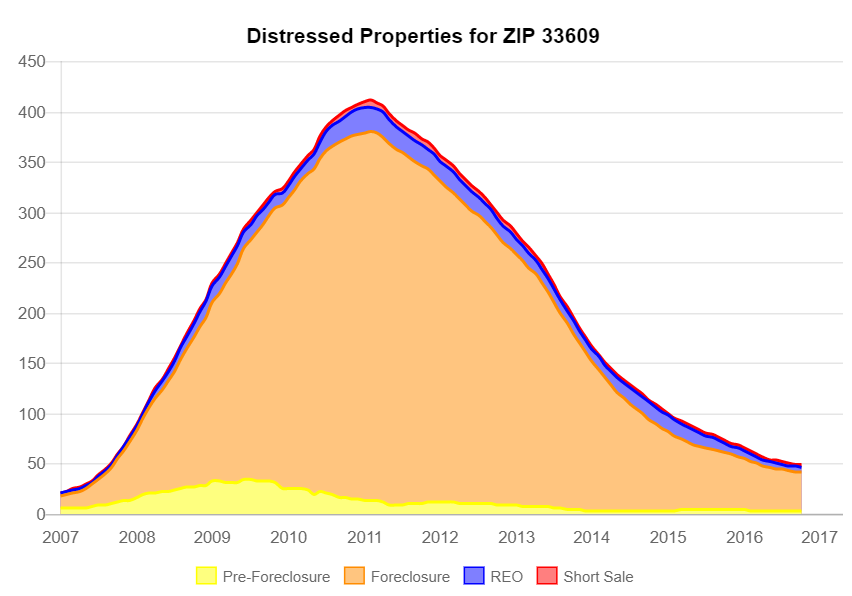 A lot of tighter lending regulations came out of the last real estate bubble which were designed to prevent the conditions that lead to the real estate crash.
Another test of a real estate bubble is to look at the appreciation over a longer period. In the last 13 years, South Tampa home values have gone up 42%, which is just over 3% per year. Historically homes have gone up around 4% per year, following similar trends as inflation. From July of 2004 to July of 2007, South Tampa home values went up 55% which is a whopping 18.54% per year. Looking at the last 3 years from 2014 to 2017, South Tampa home prices have gone up 21%, or a healthy 7% a year.
We still have room to go in the long-term trends for prices to continue increasing at their current rates and not look anything like a real estate bubble.
What is Next?
Current inventory of available homes is the lowest that it has been since before the real estate bubble. At the same time, closed transactions are the highest that they have been. That means buyers have less to choose from, but they are closing more transactions. Demand is strong and supply is low. That will continue putting upward pressure on price. The low inventory and accrued appreciation make it a great time to sell. The positive outlook and low interest rates make it a good time to buy.