Pricing Your House to Maximize Profit
Posted by Barbara Rasponi on Monday, August 29, 2016 at 3:54 PM
By Barbara Rasponi / August 29, 2016
Comment
How to price your house to maximize profit
Pricing a home is one of the most important topics for someone looking to sell their house.
It can be tempting to price high, because buyers will low ball their offers or "let's just try to get a little more" and algorithmic pricing models can be misleading because the data that feeds them isn't always accurate and they lack the context to separate features especially in non-homogeneous neighborhoods.
In today's market, homes are selling for an average of 98% of their list price throughout the whole Greater Tampa Board of Realtors.
The market conditions vary by price range with the most competitive price range currently being $140,000 - $159,000 selling in an average of 39 days for 98% to list price. In that price range there is currently a 1.5 months' supply of homes available which makes it a pure sellers' market.
Market conditions are generally described as a sellers' market or a buyers' market based on the absorption rate, or the rate that houses are selling based on the number of available homes. The equilibrium of the market or balance between buyer's and seller's markets is considered to be a six month's supply of inventory available.
The Tampa area is in a seller's market for every pricing category up to $800,000. For the luxury market above $800,000 it is actually a buyers' market. The most saturated inventory right now is the price range from $900,000 to $999,000 with a whopping 24 months' supply available given the current absorption rate.
The $500,000 to $700,000 price range is trending to be a little more saturated with the inventory and could dip into a buyers' market soon.
Builders have been building for the luxury market which fuels the inventory in the higher prices and is keeping the more affordable market competitive as demand is exceeding supply for average to below average priced homes.
The best strategy for pricing a home is to list it for what you expect it to sell for. You get the best activity on a listing in the beginning.
This graph illustrates the importance of entering the market priced correctly. Most showing activity happens in the first couple of weeks on the market, while the most offers come in in weeks 3-4. Once you are past that time, showing activity and offers will be a fraction of what they were in the first month.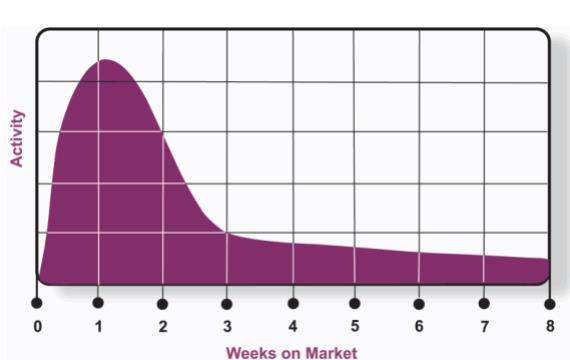 While the whole Tampa market is selling for 98% to list price, that is the average; if a home is priced right it is often selling in the first week with multiple offers. If it is priced too high, it is sitting with no activity at all. Sellers do not have to give a lot of concessions or price adjustments. Over pricing a home only helps your neighbor's home to sell.
This graph shows the difference between selling price and asking prices based on weeks on the market.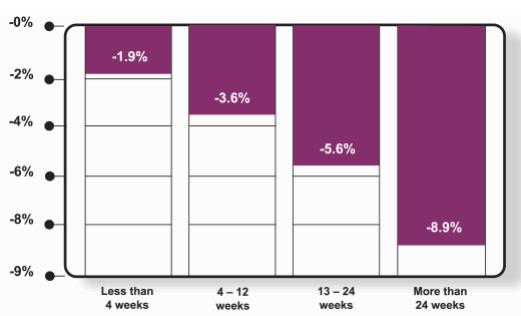 Once a home has sat available and not sold at a given price, the perception of buyers is that it isn't worth the asking price because no one else has been willing to pay it.
So how should you price your house to maximize your profits?
When deciding on a list price from your home, don't go off of automated models or what your friend or neighbor got for their house. Work with a qualified local agent who is an expert on the conditions of your neighborhood. Once you have a thorough understanding of your market, price your house exactly where it should be. The best thing that can happen in a real estate transaction is to sell quickly with multiple offers. Buyers at that stage are more eager and will generally be less of a headache in what they ask for throughout the inspections and closing process. The saying in the industry is that the first offer than you get is normally the best one.